An homage to a great Italian tradition. A coffee at the piazza evoking a spirited moment of conviviality.
Bring the spirit of conviviality into your home with a scent celebrating a typical yet popular Italian tradition. Intense hints of coffee are mellowed by sweet bouquets of freshly baked pastries.

Duration: 10-12 weeks

NOTE: All diffusers come packaged with black rattan reeds.
Bright cardamom notes recall the joyful and lively atmosphere of the piazza, enhanced by intense coffee scents. The sweetness of vanilla, evoking the aroma of freshly-baked Italian pastries, finds its perfect match in a hazelnut cremino for a delicious olfactory treat.

Tasting Notes: Cardamom, Cappuccino Foam, Roasted Coffee, Vanilla, Everlasting Flower, Sandalwood, Hazelnut 'Cremino' Accord
OUR UNIVERSE
ARTISANS
We work with local Italian artisans who are strongly rooted in the production heritage of their territories.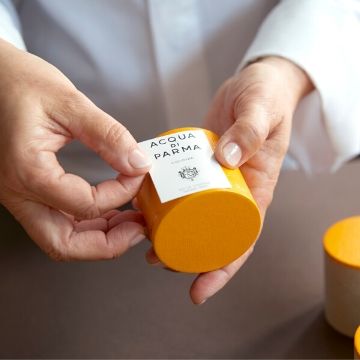 MADE IN ITALY
All Acqua di Parma products are made in Italy by traditional craftsmen using only highest quality materials.