The splendour of the Italian countryside in the morning light expressed in fresh aromas.
Diffuse lingering scents for a sensuous yet fresh awakening to your day. As the first rays of the morning light filters through the window, the accompanying breeze brings hints of green aromas reminiscent of the splendid Italian countryside.

Duration: 10-12 weeks

NOTE: All diffusers come packaged with black rattan reeds.
The scents of freshly cut grass and sun-dried linen bring an infusion of freshness and softness at the same time. Natural wood tones are softened by moss, lending warmth, roundness and comfort to the fragrance.

Tasting notes: Italian lemon, mint leaves, Rosemary, Lavandin, Jasmin, Cedarwood, Musk
OUR UNIVERSE
ARTISANS
We work with local Italian artisans who are strongly rooted in the production heritage of their territories.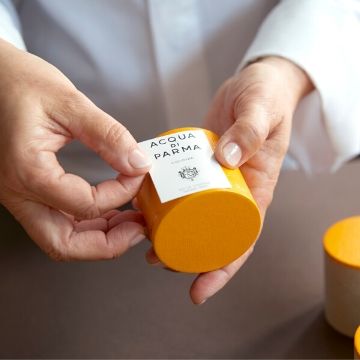 MADE IN ITALY
All Acqua di Parma products are made in Italy by traditional craftsmen using only highest quality materials.