Take a look at the product on your smartphone to enter the AR mode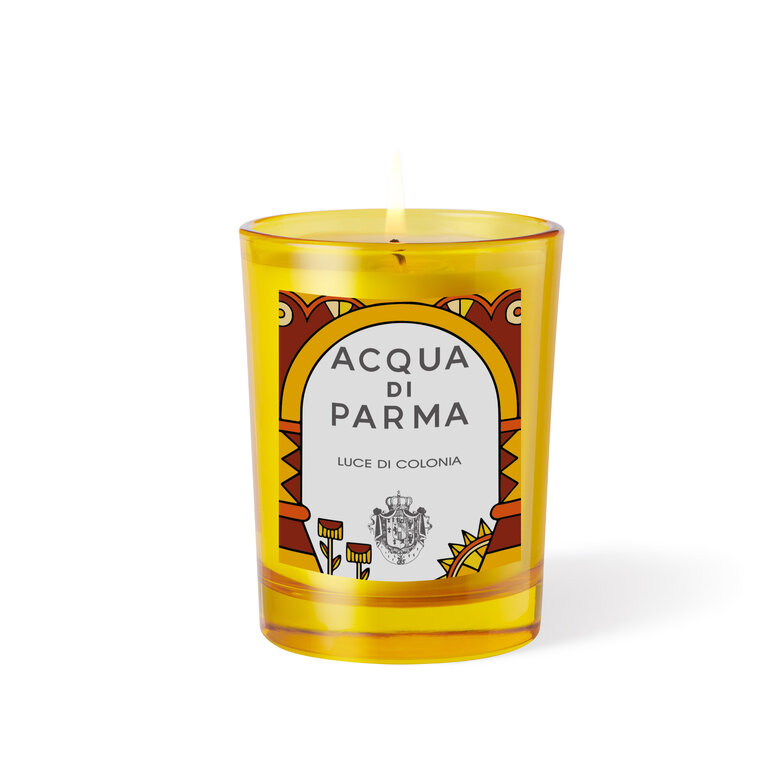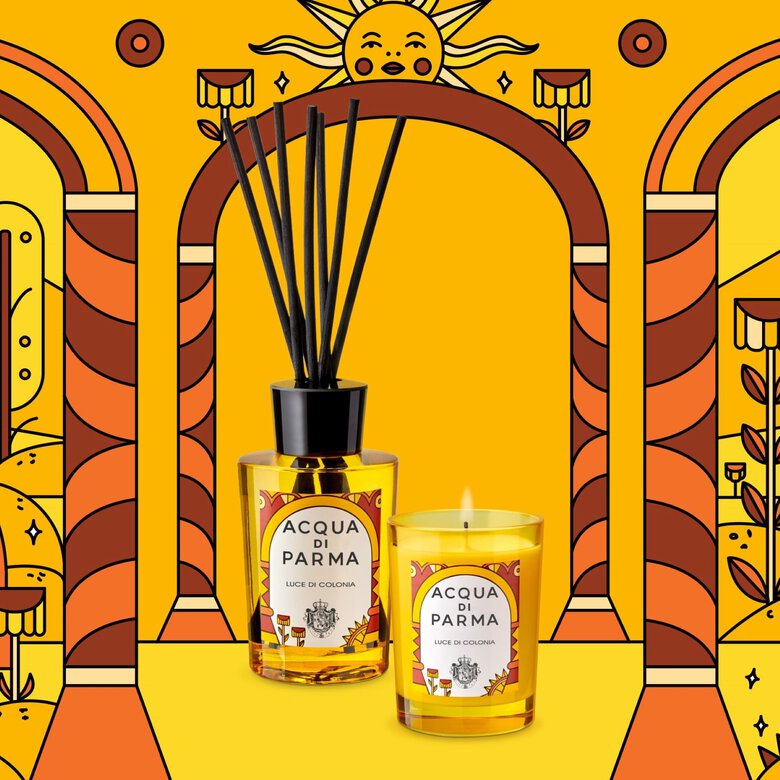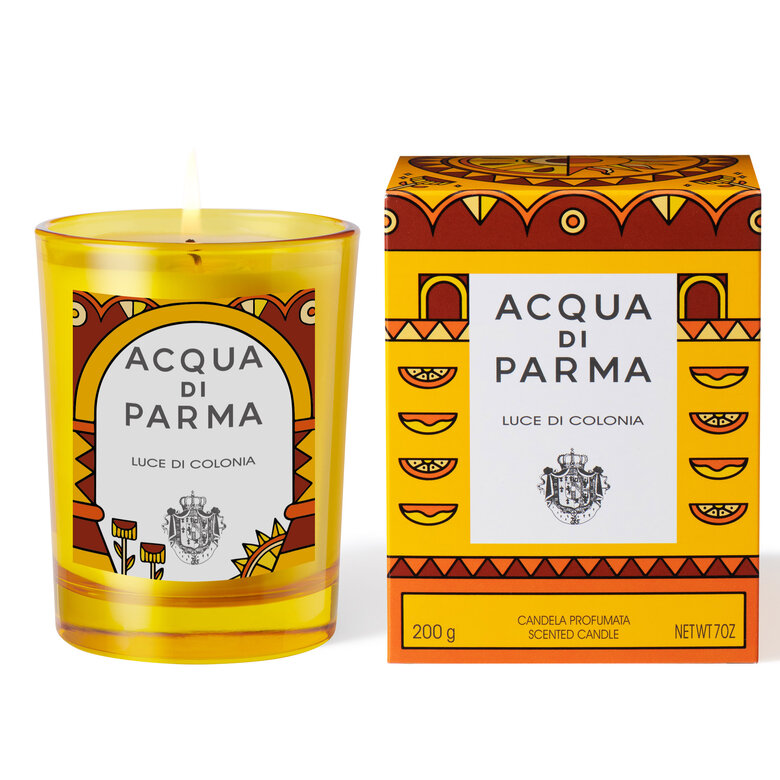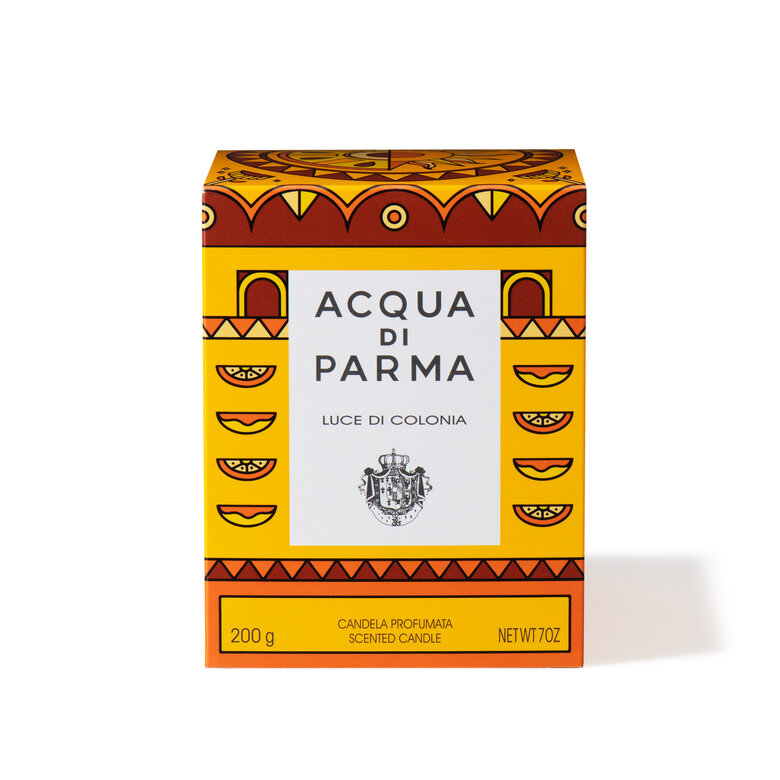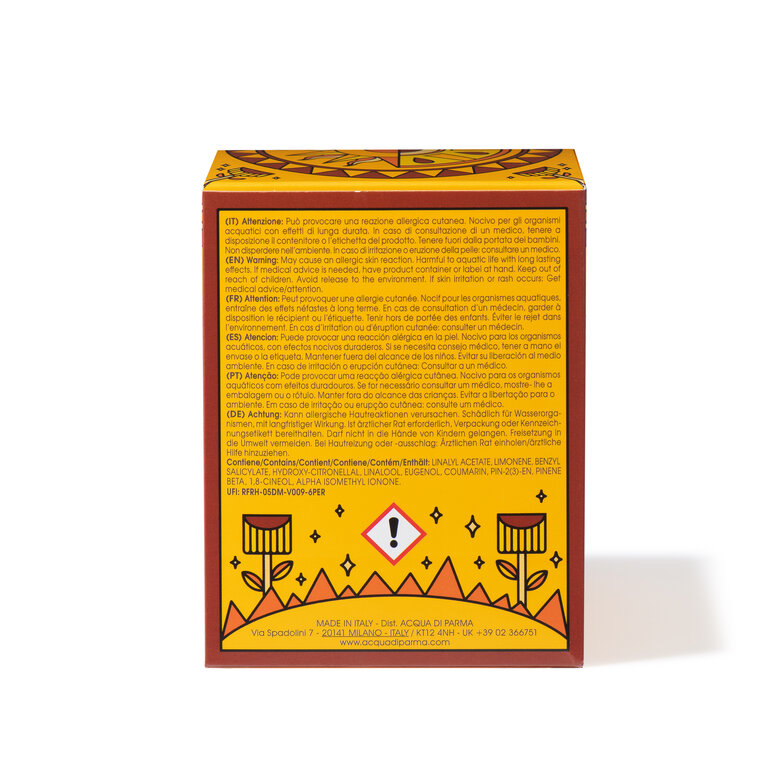 A limited edition celebrating the Italian sun and light, this Luce di Colonia candle features an imaginative label of vivacious patterns and bold elements that invites you to look through a window of radiant brightness. Diffusing notes of refined lightness, the candle comes packaged in a colourful play of illustrative details from golden fruits to the radiant sun.
The classic Acqua di Parma yellow glass container is adorned by an animated label of dynamic and engaging world of Italian icons inspired by the scent's quintessential essence, sunflowers, arches, and the Italian sun. Elegantly timeless, Luce di Colonia radiates brightness through your space with its harmonious blend of citrus essences, floral notes, and elegant, warm, woody accents. Let the light at the window shine through imprinting memories of unforgettable Italian moments.

IED - Istituto Europeo di Design creativity from Lucrezia Viperina

Dimensions: H: 10 cm Ø: 7,7 cm

Weight: 200g / 7 oz

Burning time: up to 50 hours

PACKAGING: The scented candle comes in a glass jar reminiscent of the Maison's iconic Art Deco bottle in its signature yellow shade.
The packaging is made of recyclable FSC paper.

IMPORTANT – PRECAUTIONS FOR USE:
To ensure the best experience from your scented candle, Acqua di Parma recommends:

• Do not burn your candle for more than 1,5 hours at a time. This will prevent the flame from becoming too high, which creates smoke and could stain the sides of the glass.
• Use a proper snuffer to extinguish the flame.
• Allow the candle to solidify before relighting it.
• Restraighten the wick in the wax after each use for consistent consumption of the wax.
• Regularly cut the wick with a wick trimmer (ideal length 5 mm) so that the wick does not stick to the wax and prevents the candle from emitting smoke.
• Keep the wax pool clear of matches and debris.
• Do not use the candle if the remaining wax level in the glass is less than 5 mm.
• Do not leave the burning candle unattended. Keep away from children, curtains, and pets.
• Do not move a burning candle or when the wax is still hot. Wait for the wax to solidify.
• Do not place the candle on heat-sensitive surfaces, near flammable materials, an open window, or other candles.
Olfactive Notes:
Orange
Lemon
Petitgrain
Neroli
Patchouli
Vetiver
HOW DOES IT WORK?
The subscription plan ensures that you will never run out of your Acqua di Parma essentials. They will be shipped to you regularly at monthly, 2 monthly, or 3 monthly intervals, starting from your preferred date.
YOUR SUBSCRIPTION
Please activate your account to be able to log in and manage your subscriptions. You can change your delivery frequency, pause or cancel your plan at any time.
NEED HELP?
If you have any questions or require assistance, we are available at +390498599388 or send us an email at support@acquadiparma.it
OUR UNIVERSE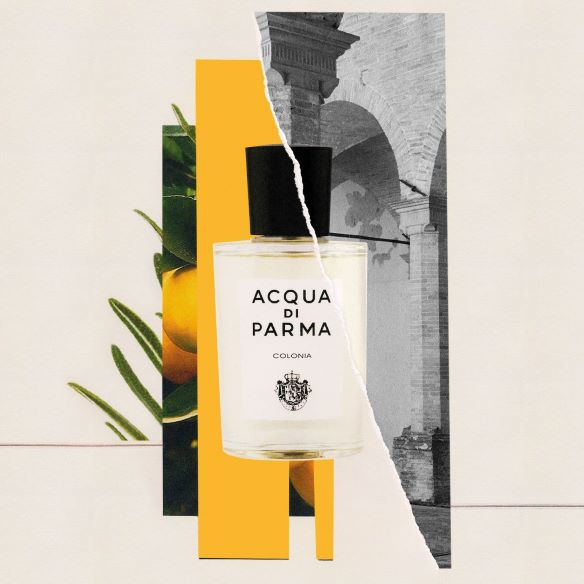 OUR ICONIC COLONIA
Originally created in 1916, Colonia is the definition of a timeless classic: an uplifting citrus-blend that evokes the scent and soul of Italy.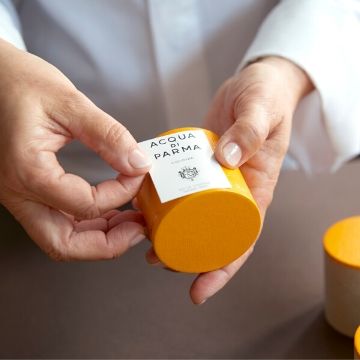 MADE IN ITALY
All Acqua di Parma products are made in Italy by traditional craftsmen using only highest quality materials.