A stylish and functional razor in yellow expressing the best of Italian craftsmanship in harmonious design and ergonomics.
The best of Italian craftsmanship is expressed in this luxurious razor that is designed for the smoothest and closest shave. Specially weighted and ergonomically hand-crafted for optimum handling, the razor is made for functionality and ease-of-use. To be used with Proglide® Fusion blades. To guarantee the durability of the razor, ensure that it is properly dried after use. Note: FUSION PROGLIDE® e GILLETTE® is a registered trademark of GILLETTE COMPANY. ACQUA DI Parma and BARBIERE are not registered trademarks of the GILLETTE COMPANY but are separate entities with no relations to the Gillette Company.
OUR UNIVERSE
ARTISANS
We work with local Italian artisans who are strongly rooted in the production heritage of their territories.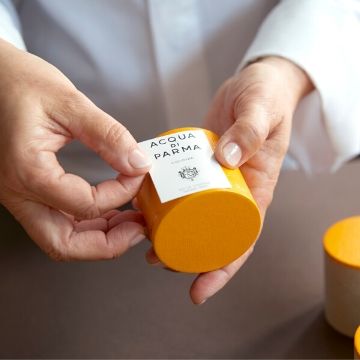 MADE IN ITALY
All Acqua di Parma products are made in Italy by traditional craftsmen using only highest quality materials.