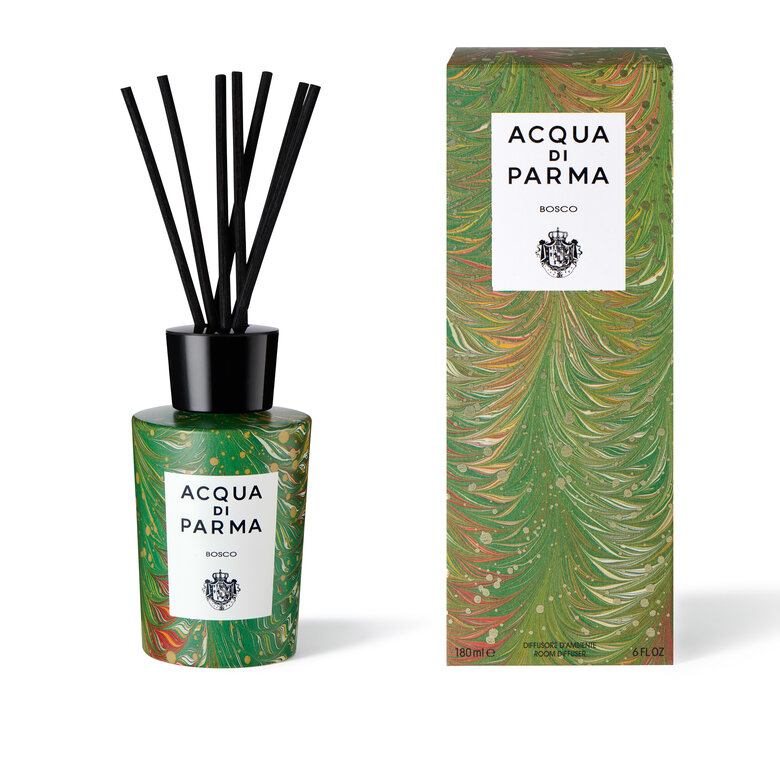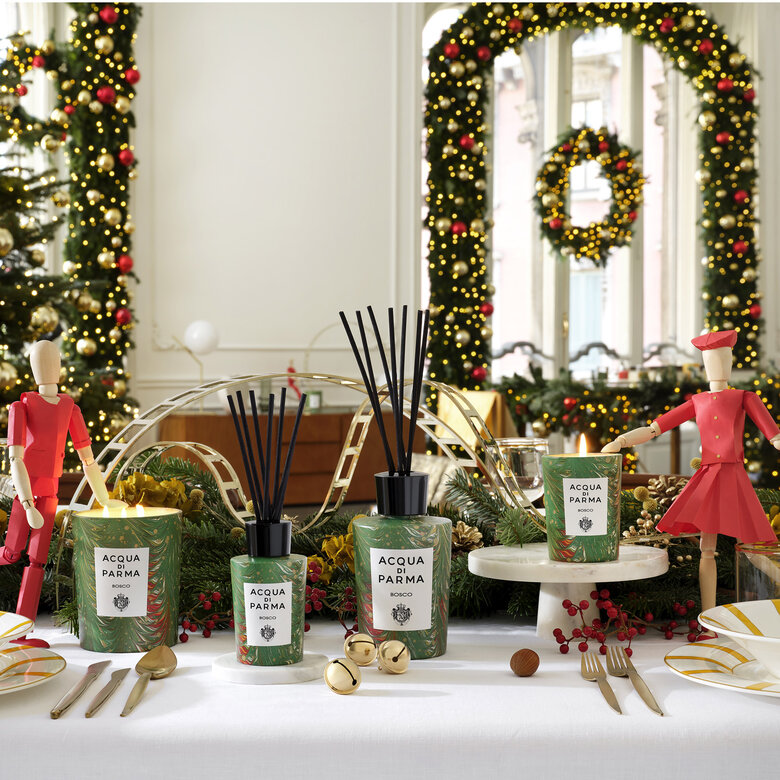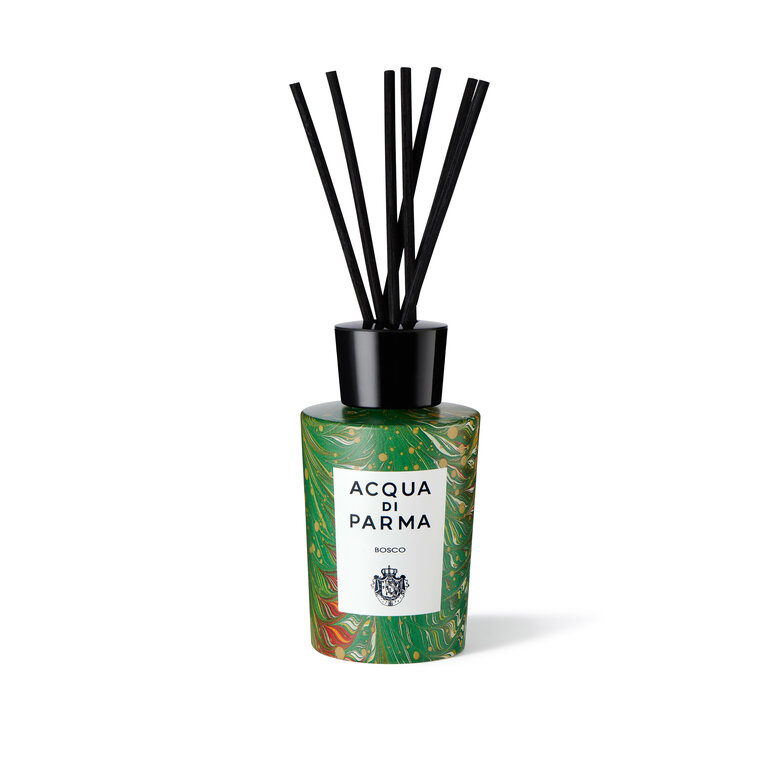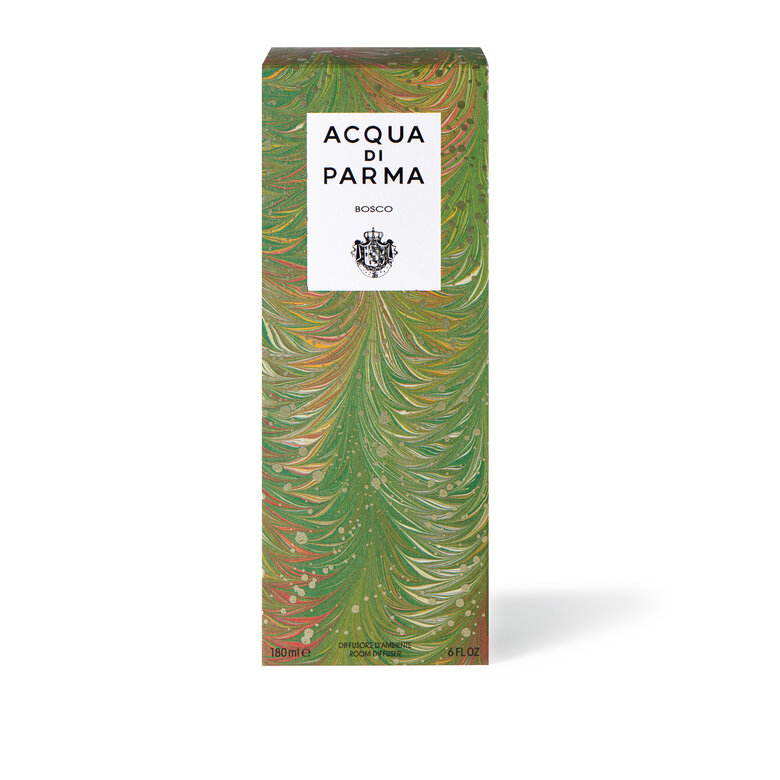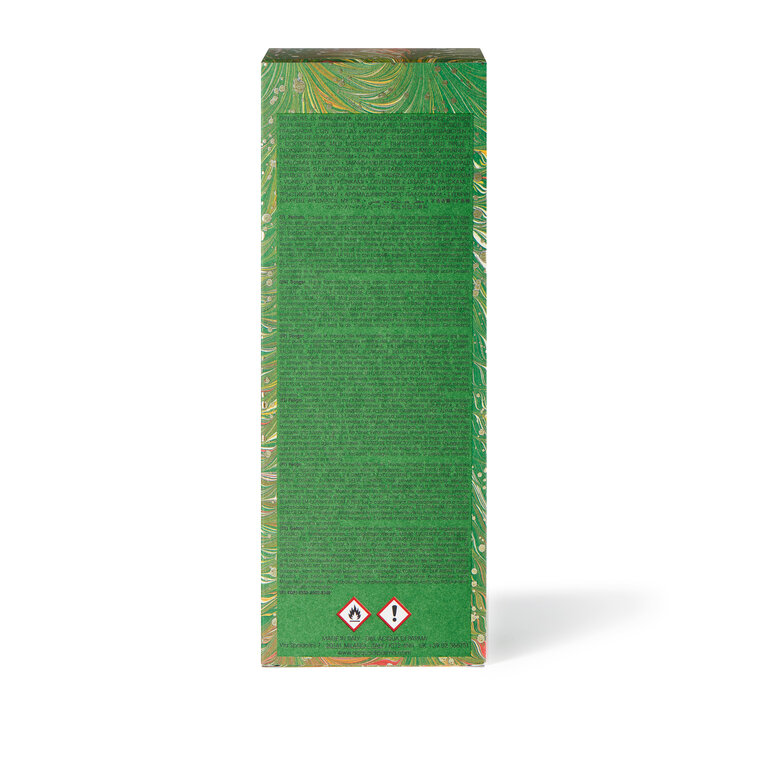 ADPADP062358-180ML
Order by 12pm on 15th Dec to receive your Christmas Gifts on time
Complimentary gift on all orders over £100
Free Sample With Purchase
Complimentary Delivery on all orders
A seasonal exclusive Bosco diffuser dressed in green twirls of dancing fir trees to scent the home with the crisp, clean winter air of the mountains.
The seasonal exclusive Bosco diffuser brings the crisp, clean winter air of the mountains to create the ambience of a magical forest for your celebrations. The fascinating scent of fir trees and the green facet of frosted pine needles blend with the invigorative freshness of eucalyptus, while the contrasting notes of cloves add a touch of warmth. The limited-edition diffuser features green swirls of movement and forms on the glass jar and the outerbox, a one-of-a-kind print inspired by a Florentine artisanal technique by Italian craftsmen, especially for Acqua di Parma's Holiday Collection. The diffuser set with rattan sticks makes for optimal diffusion of festive notes across your living spaces.

Capacity: 180ml / 6 FL OZ
Duration: 10-12 weeks


NOTE: All diffusers come with natural black rattan reeds.

Packaging: FSC-certified paper

IMPORTANT – PRECAUTIONS FOR USE:
To ensure the best experience from your diffuser, Acqua di Parma recommends:
• Unscrew the cap and remove the inner plate. Replace the cap and insert the reeds in the bottle.
• At first use, it is necessary to soak the reeds for twenty-four hours before turning them over.
• The frequency of which some or all of the reeds are flipped over determines the intensity of the fragrance: the more often they are turned around, the greater the intensity. If the diffusion is too intense, adjust by removing a few reeds until the desired level is achieved.
• In order to prolong the duration of the fragrance, it is advisable to avoid high temperatures, direct sunlight and rigorous air circulation that can speed up evaporation.
• Place the home fragrance diffuser on a flat surface where it will not be exposed to humidity.
• Keep out of reach of children and pets.
• Keep away from heat, hot surfaces, sparks, open flames and other ignition sources.
• The fragrance concentrate contains natural raw materials, therefore its colour may slightly change over time without compromising its olfactory performance.
• After handling the rattan reeds, it is advisable to rinse your hands with clean water and soap.
• Highly flammable liquid and vapour.

Olfactive Family: Aromatic Woody

Tasting notes:
Pine
Eucalyptus
Cedarwood

HOW DOES IT WORK?
The subscription plan ensures that you will never run out of your Acqua di Parma essentials. They will be shipped to you regularly at monthly, 2 monthly, or 3 monthly intervals, starting from your preferred date.
YOUR SUBSCRIPTION
Please activate your account to be able to log in and manage your subscriptions. You can change your delivery frequency, pause or cancel your plan at any time.
NEED HELP?
If you have any questions or require assistance, we are available at +390498599388 or send us an email at support@acquadiparma.it
YOUR UNBOXING EXPERIENCE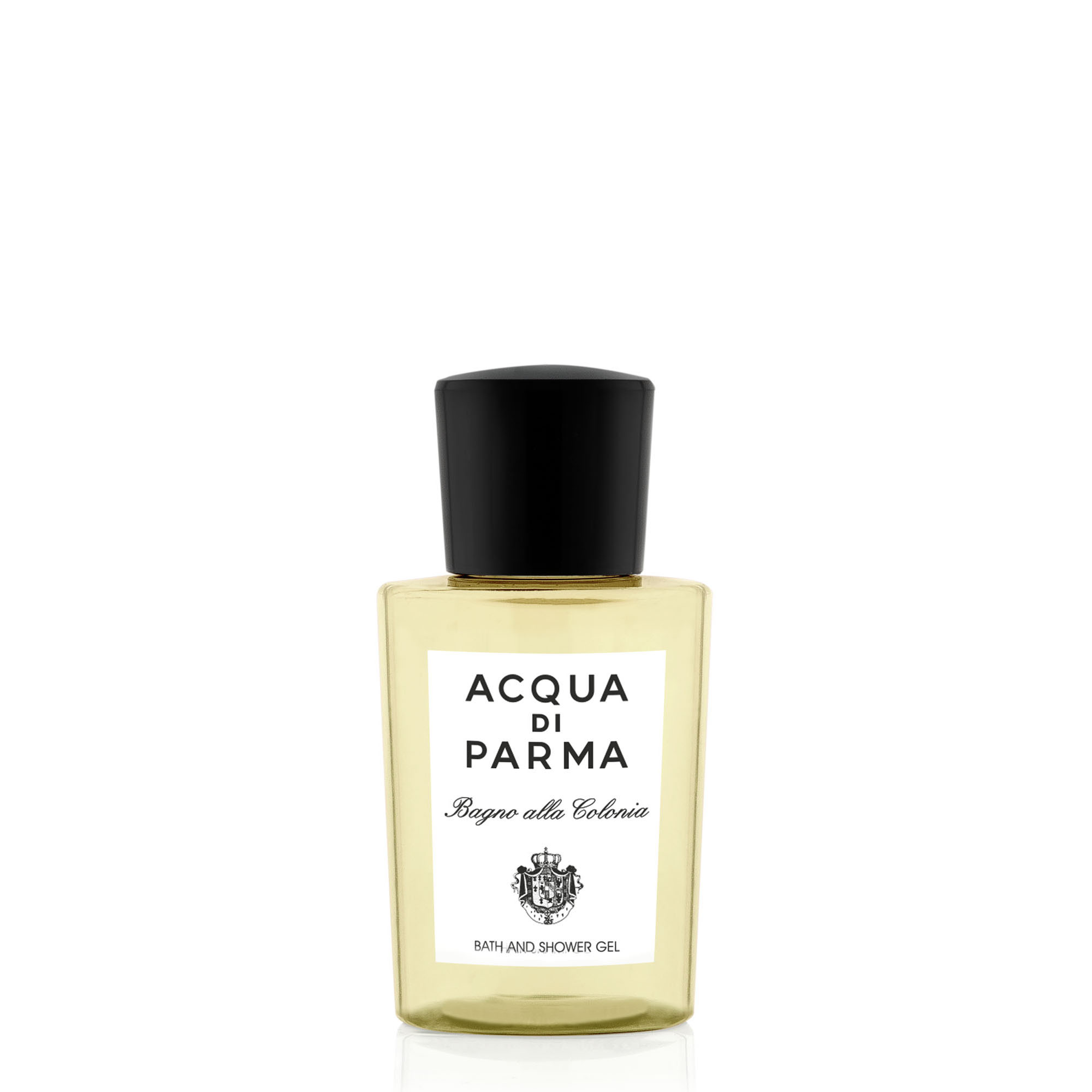 Enjoy a welcome gift
Create your Acqua di Parma account and receive a Colonia shower gel 40 ml gift with your first purchase as a registered user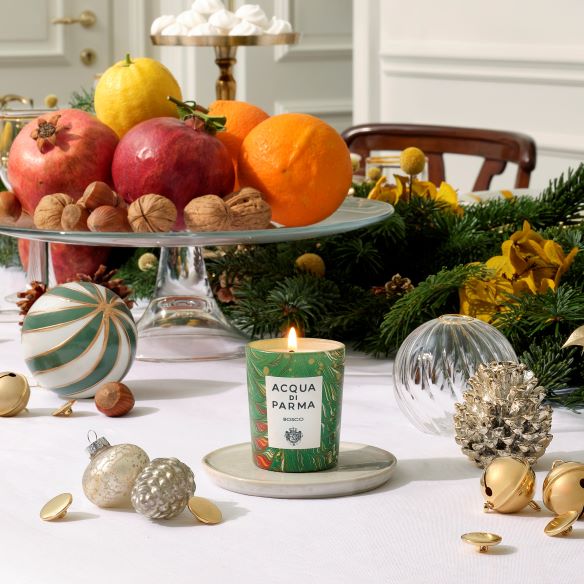 With Our Compliments
Receive a Bosco 70g candle gift on all orders above £100