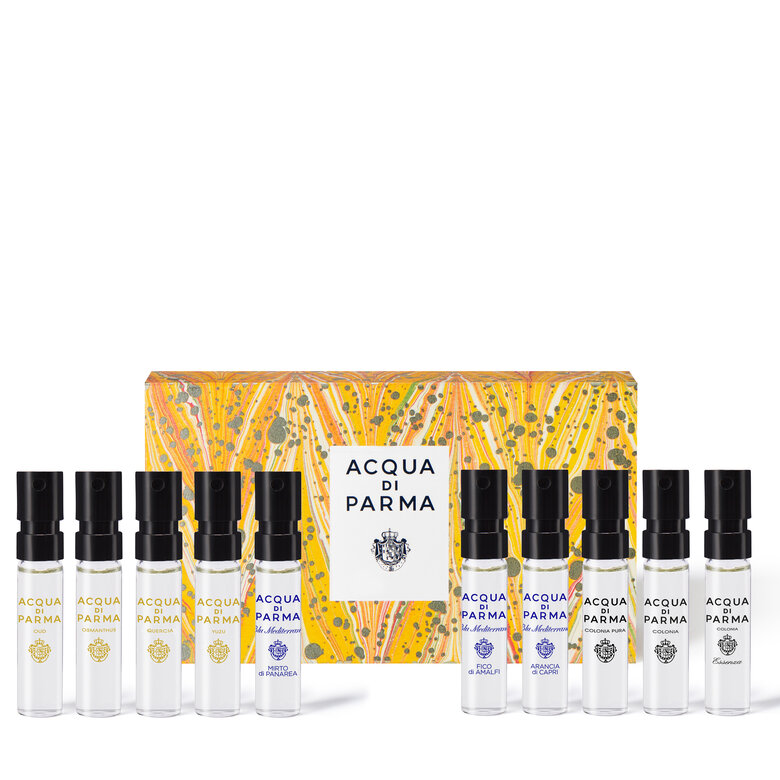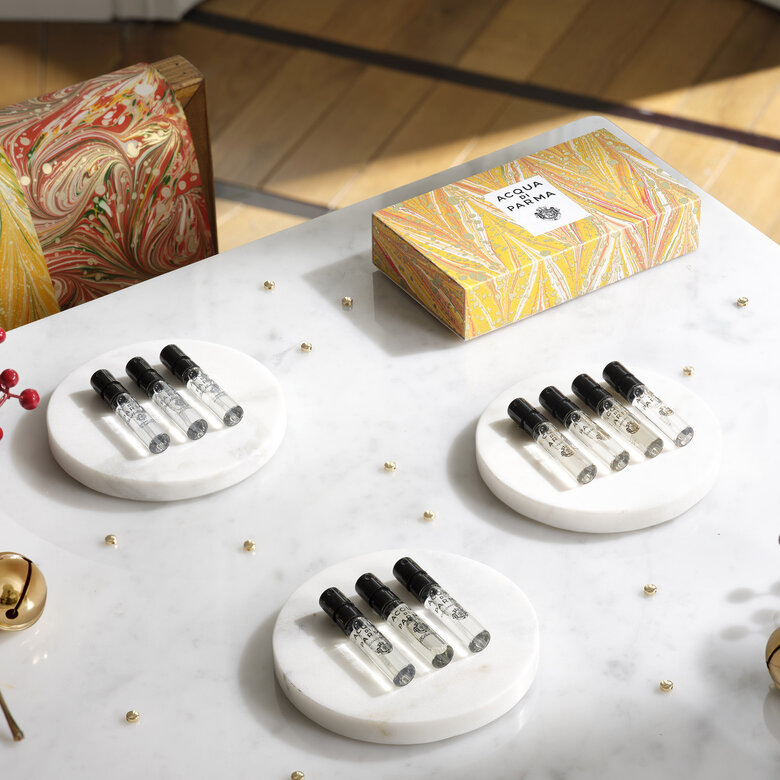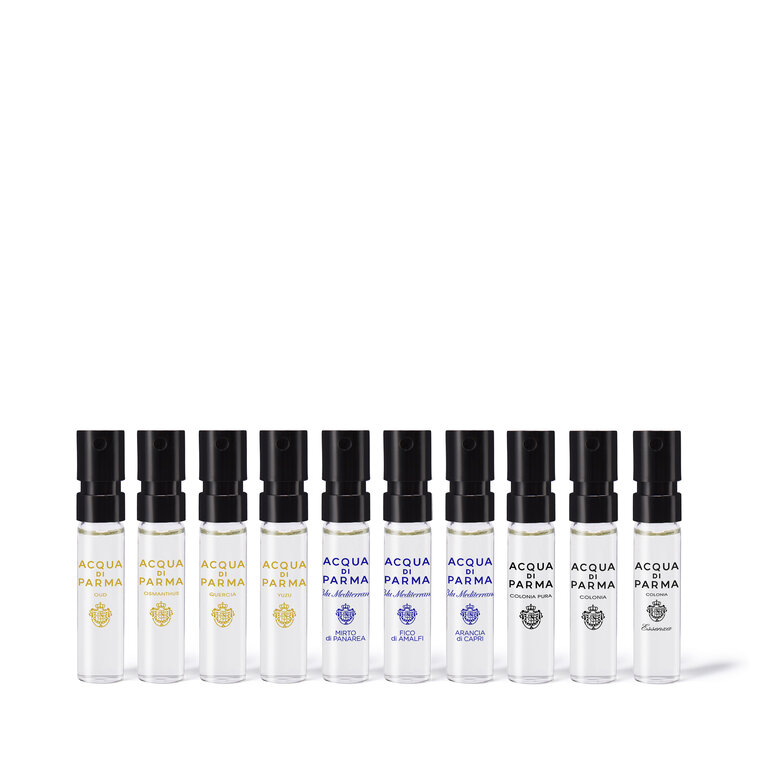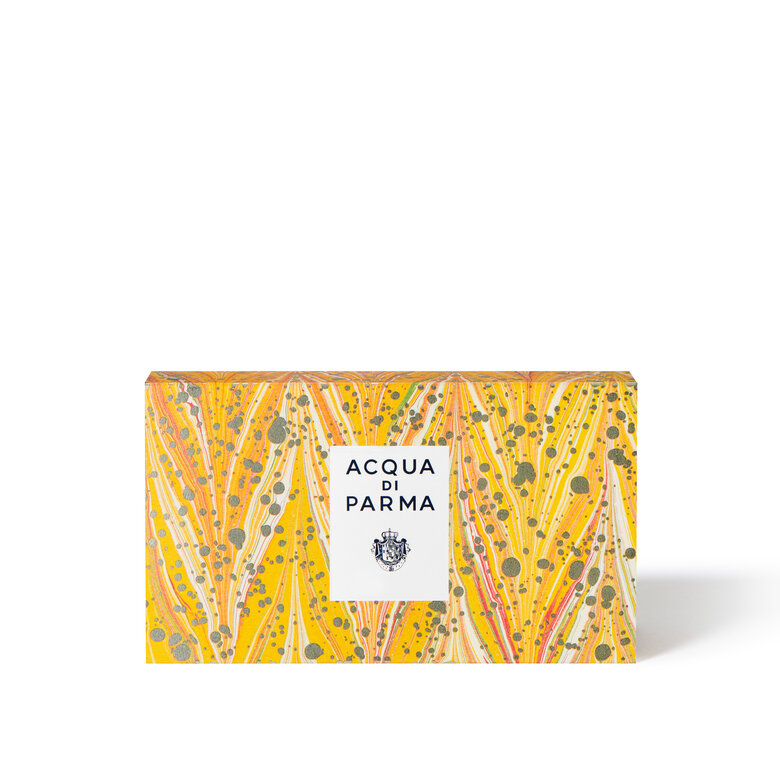 This item is currently not available
ADPADP062322-ONESIZE
Order by 12pm on 15th Dec to receive your Christmas Gifts on time
Complimentary gift on all orders over £100
Free Sample With Purchase
Complimentary Delivery on all orders
A Holiday Selection Set to discover the different lines of Acqua di Parma, wonderfully presented in a box celebrating Italian craftsmanship, wrapped in a visual symphony of golden yellow shades with seasonal accents of red and green.
Come into the Italian Wonderland of Acqua di Parma this festive season with the Holiday Selection Set dedicated to the Maison's fragrance universe dressed in a one-of-a-kind print inspired by a Florentine artisanal technique by Italian craftsmen, especially for Acqua di Parma's Holiday Collection.
This perfume set with a universal appeal features 10 iconic fragrances from three different lines:

COLONIAS (Eau de Cologne)
- Colonia: the iconic, reassuring Acqua di Parma Eau de Cologne that symbolises Italianity with its universally-loved, harmonious citrus scent blend notes
- Colonia Essenza: a thrilling reinterpretation of the iconic Colonia with a modern, woody perspective that epitomises authentic sophistication
- Colonia Pura: a blissful, effortlessly elegant illumination of the iconic Colonia in a fresh twist to our Italian lightness


BLU MEDITERRANEO (Eau de Toilette)
- Arancia di Capri: a fascinating expression of Capri's irresistible magic that captures the sunny atmosphere of a relaxing stroll across the island
- Fico di Amalfi: an olfactive signature of the Mediterranean landscape of the Amalfi Coast that expresses the notes of the fig tree in all its complexity
- Mirto di Panarea: an ode to the volcanic landscape of Panarea, an island suspended in time, that embodies the aromatic warmth of myrtle notes

SIGNATURES OF THE SUN (Eau de Parfum)
- Yuzu: an extraordinarily radiant perfume where the brightness of oriental yuzu notes meets Acqua di Parma's signature golden fruits
- Osmanthus: a radiant and sensual perfume distilled from precious osmanthus essence, viewed through the prism of citrus lightness
- Quercia: an enveloping and powerful perfume that surprises with the generously rich olfactory magnificence of oakmoss absolute notes
- Oud: a magnetic and decisive perfume where the freshness of citrus notes meets the opulence of agarwood oil notes in a subtle harmony of contrasts

A discovery set that will allow you to find your next perfume among the different lines of the Maison, to understand which scented sensation resonates the most with you.

Packaging: FSC-certified paper
Interior made of recycled plastic
Colonia


Olfactive Familiy: CITRUS

Top Notes: Lemon, Sweet Orange, Calabrian Bergamot
Heart Notes: Lavender, Rose, Verbena, Rosemary
Base Notes: Vetiver, Sandalwood, Patchouli

Colonia Essenza


Olfactive Familiy: CITRUS WOODY

Top Notes: Lemon, Orange, Bergamot, Mandarin, Grapefruit, Neroli, Petitgrain
Heart Notes: Rosemary, Lily of the Valley, Rose Accord, Jasmine Accord, Cloves
Base Notes: Vetiver, Patchouli, White Musk, Amber

Colonia Pura


Olfactive Family: WATERY COLOGNE

Top Notes: Italian Bergamot, Italian Orange, Petitgrain
Heart Notes: Coriander Oil, Jasmine Sambac Absolute, Narcissus Absolute
Base Notes: Cedarwood, Patchouli, Musk

Arancia di Capri


Olfactive Family: CITRUS MUSK

Top Notes: Italian Sweet Orange, Italian Mandarin, Italian Lemon
Heart Notes: Petit Grain, Cardamom
Base Notes: Caramel, Musk

Fico di Amalfi


Olfactive Family: WOODY GREEN

Top Notes: Italian Lemon, Italian Bergamot, Grapefruit
Heart Notes: Fig Nectar, Pink Pepper, Jasmine Petals
Base Notes: Fig Wood, Cedarwood, Benzoin

Mirto di Panarea


Olfactive Family: AROMATIC CITRUS

Top Notes: Myrtle, Basil, Italian Lemon, Italian Bergamot
Heart Notes: Marine Breeze, Jasmine Absolute, Damask Rose Absolute
Base Notes: Lentisc Ansolute, Juniper, Virginian Cedarwood, Amber

Yuzu


Olfactive Family: Floral Citrus

Top Notes: Yuzu, Bergamot, Sichuan Pepper
Heart Notes: Lotus, Mimosa, Violet Leaves, Jasmine
Base Notes: Musk, Liquorice, Sandalwood

Osmanthus


Olfactive Family: Floral Fruity

Top Notes: Green Mandarin, Neroli
Heart Notes: Peony, Pink Pepper, Ambrette
Base Notes: Osmanthus, Patchouli

Quercia


Olfavtive Family: Woody Aromatic

Top Notes: Lemon, Bergamot, Petitgrain, Pink Pepper
Heart Notes: Cardamom, Geranium, Cedarwood
Base Notes: Tonka Bean, Patchouli, Oakmoss

Oud


Olfactive Fmaily: Oriental Woody

Top Notes: Bergamot, Orange Heart Notes:Haitian Amyris Oil, Russian Coriander, Agarwood oil (Oud)
Base Notes: Cedarwood, Leather accord, Patchouli Oil, Sandalwood, Musk

HOW DOES IT WORK?
The subscription plan ensures that you will never run out of your Acqua di Parma essentials. They will be shipped to you regularly at monthly, 2 monthly, or 3 monthly intervals, starting from your preferred date.
YOUR SUBSCRIPTION
Please activate your account to be able to log in and manage your subscriptions. You can change your delivery frequency, pause or cancel your plan at any time.
NEED HELP?
If you have any questions or require assistance, we are available at +390498599388 or send us an email at support@acquadiparma.it
YOUR UNBOXING EXPERIENCE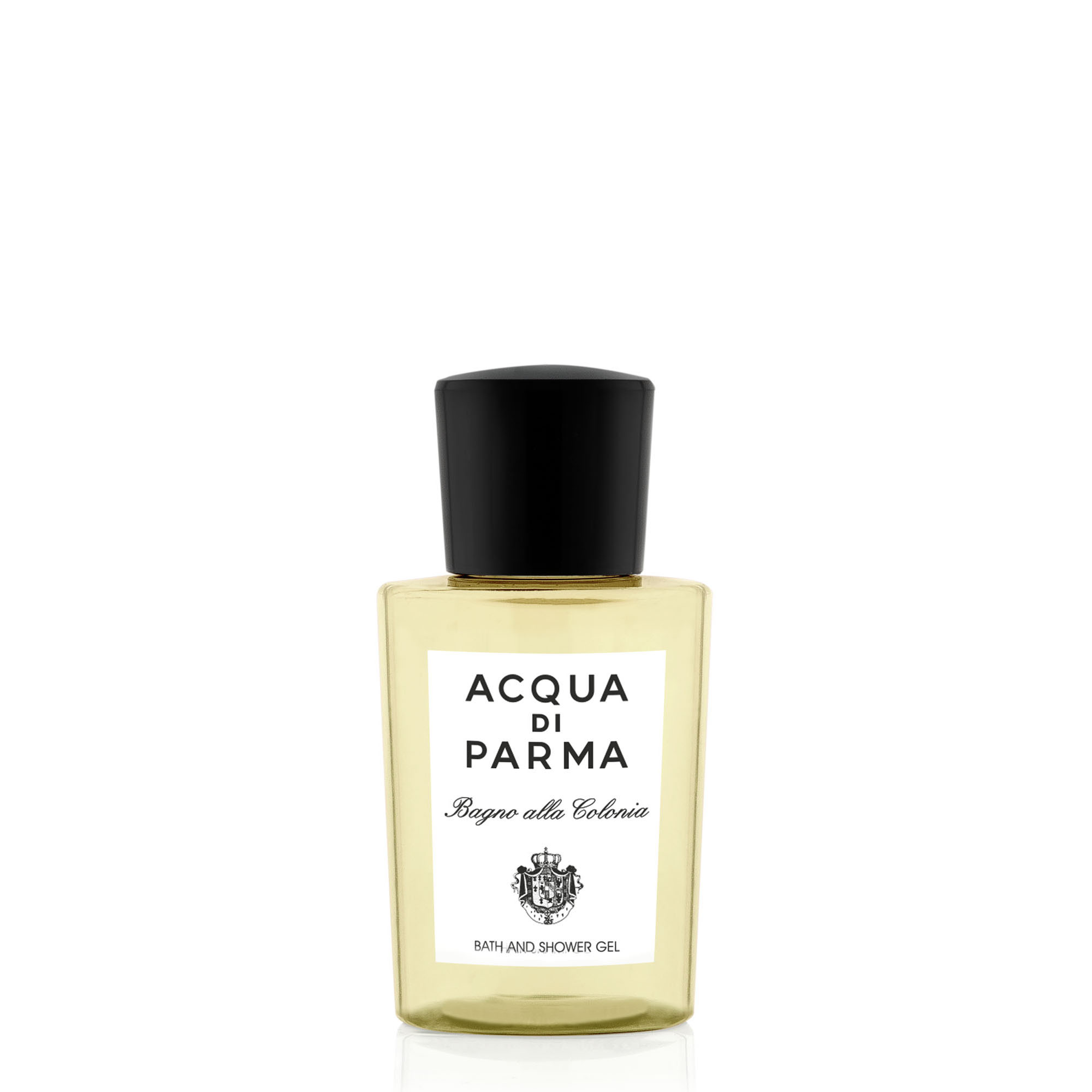 Enjoy a welcome gift
Create your Acqua di Parma account and receive a Colonia shower gel 40 ml gift with your first purchase as a registered user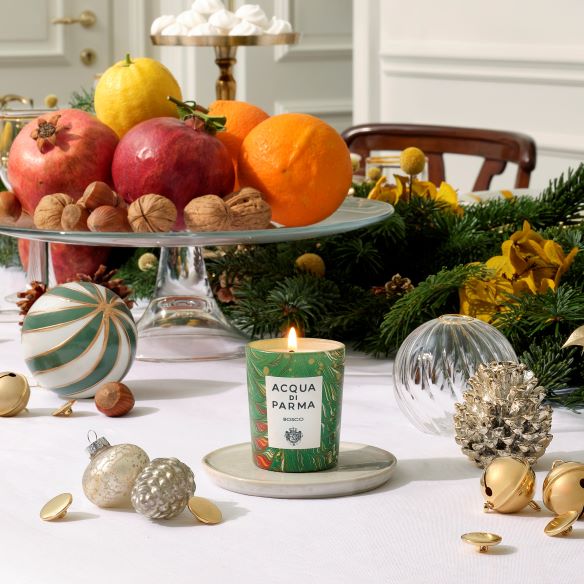 With Our Compliments
Receive a Bosco 70g candle gift on all orders above £100